detailed.
contemporary.
design.
Bergmark Architects was established by Jens Bergmark in 2008. Jens is a chartered architect originally from Sweden, practising in Edinburgh since the mid 1990s. He was trained and qualified as an Architect at Lund University, Sweden and at Edinburgh College of Art.
Jens has extensive experience of designing high quality and award winning buildings, ranging from modest residential refurbishments to high profile corporate office headquarters.
Jens' belief in well detailed, contemporary design, combined with an appreciation of historic buildings, ensures the practice delivers successful and unique solutions with architectural quality.
The practice views the client's needs as central. We work closely with technical consultants, engineers and builders to ensure well designed buildings are delivered on time and on budget.
Since 2017 we have collaborated closely with Julien Poulizac of the French interior design practice CAYBO - www.caybo.fr - operating in Paris and Edinburgh. This collaboration aims to offer the additional option of a comprehensive interior design service, in order to deliver a complete architectural design project, down to the final detail.
Jens was educated at Lund University, Sweden and at Edinburgh College of Art. After a few years of architectural practice in Stockholm he returned to Edinburgh in 1995.
He was an associate with Malcolm Fraser Architects and during his ten years there he produced a range of high profile and award winning projects.
These include restaurant and bar interiors, residential projects, commercial projects and arts buildings. His work with Malcolm Fraser Architects often involved restoration and conservation of listed and historic buildings, such as the Bank of Scotland at the Mound, Edinburgh, and the Linlithgow Burgh Halls.
After leaving Malcolm Fraser Architects in 2006, Jens was Senior Associate with Oberlanders Architects until establishing Bergmark Architects in 2008.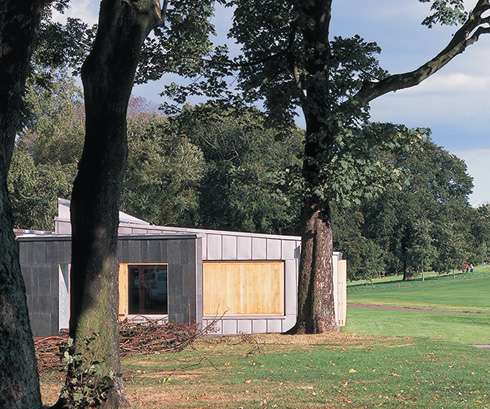 "This project is about a gentle touch," says Bergmark. "It's about modifying what you've got an not making a big statement. It's not grandiose. If it looks seamless, that's a compliment."
This is one of several extension and refurbishment projects carried out in Buckstone, Edinburgh, by Bergmark Architects. This time the ground floor to this end-of-terrace house was reconfigured to fit a dowstairs wc, utility room and entrance hall where the kitchen previously was. A side extension was added to create a large open-plan kitchen dining…
Visiting Lecturer in Interior Architecture, Napier University
Visiting Tutor in Architecture, Edinburgh University/Edinburgh College of Art
Assessor of the Civic Trust Awards
Past Council Member of the Cockburn Association
Past Council member of the Edinburgh Architectural Association
Past Council member of the Royal Incorporation of Architects in Scotland
Associate of the Royal Incorporation of Architects in Scotland (RIAS)
Chartered member of the Royal Institute of British Architects (RIBA)
Registered with the Architects' Registration board (ARB)
The Urban Realm magazine, Top 100 architects in Scotland; Every year from 2012-2022
Feb 2020 Ion Magazine, London Street flat with Barclay Interiors
Architecture Scotland annual 2020, Gilmore Place, Eden Lane, Trinity house, Craiglockhart Loan
25 Beautiful Homes Magazine, January 2021 Howe Street flat with Caybo Interiors
25 Beautiful Homes Magazine, February 2021 Cammo Road with Caybo Interiors
The Scotsman April 2021 Dublin Street Lane house
Architecture Scotland annual 2021 Dublin Street Lane and London Street
Homes and Interiors Scotland October 2021 the Canoncave
Kitchen Bedrooms and Bathrooms magazine April 2022 Barony Street flat
The Guardian July 2022 Eden Lane
Architecture Scotland annual 2022 Inverleith Gardens, the Canoncave
Bergmark Architects Ltd
3 Walker Street
Edinburgh EH3 7JY
T. 0131 603 4848
M. 07949 361140
email. jb@bergmarkarchitects.co.uk